Your professional
glulam supplier
VTI is a locally based company with core competencies in the production of glulam for various applications including furniture, windows, doors, stairs and DIY projects. Our 40+ years of experience in glulam production has made us one of the leading manufacturers in Europe. The secret to our success is that we use our extensive expertise in raw materials, production processes and product quality to achieve results that both we and our customers can be proud of.
We're more than a manufacturing company - we're a knowledge hub
As a knowledge hub, VTI plays a crucial advisory role in our entire value chain from sustainable logging to the finished product at our customers' premises.
We strive to be the best partner in the production of glulam for furniture, windows, stairs and DIY projects, and our close dialogue with customers and strong partnerships support this vision.
At VTI, we're not just a supplier; we're your trusted partner and a knowledge hub that builds long-lasting and valuable relationships. We believe that we are Stronger Together through knowledge sharing and collaboration.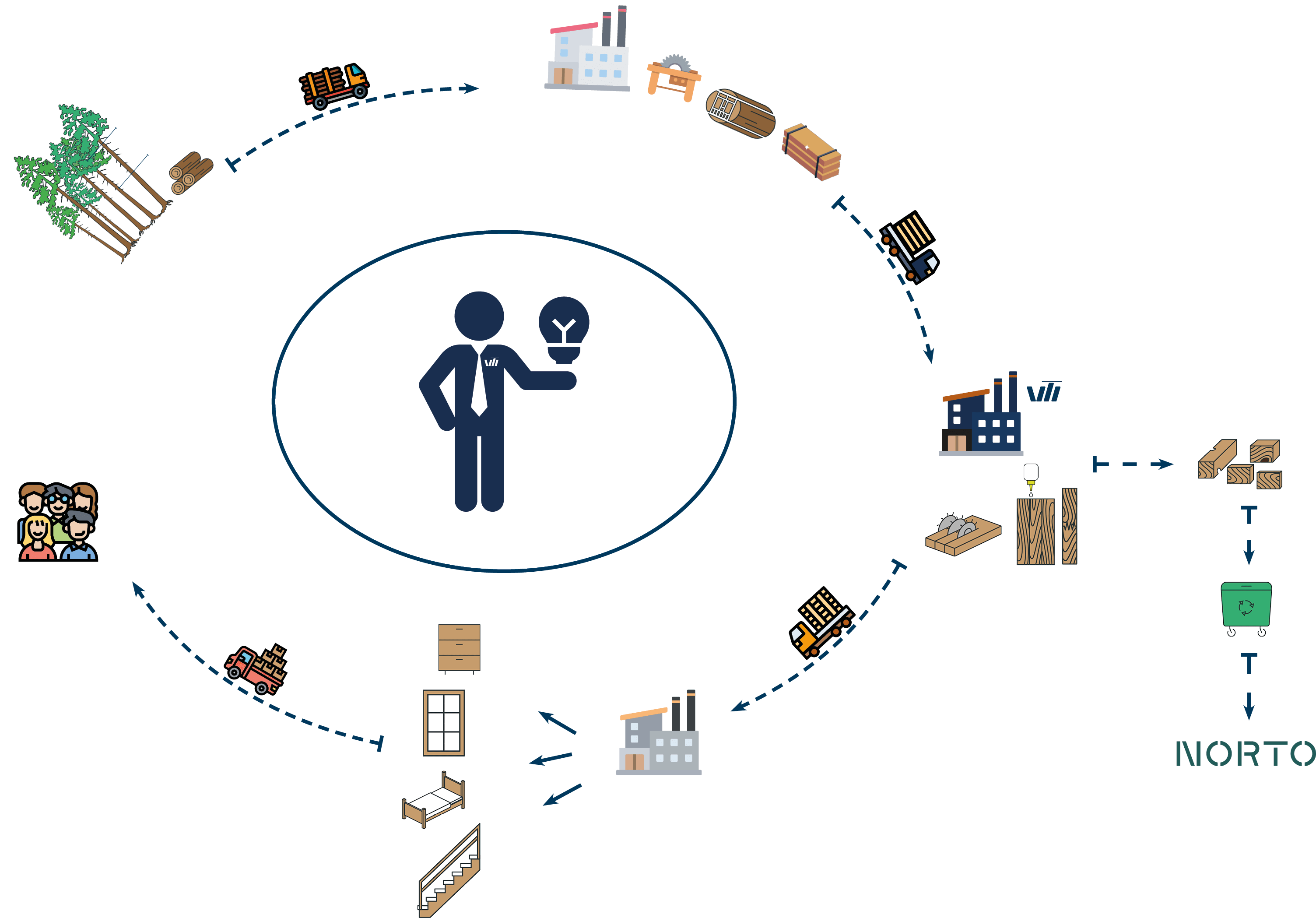 1. certified quality
Our raw timber is principally supplied from the forests in the north of Sweden and Finland, and is between 80 and 100 years old. Everything is FSC®- or PEFC-certified, which means that the foresters never fell more trees than they plant. We use the top of the tree – where there are only fresh branches – for our furniture panels, while for our window and stair profiles, we use the middle and bottom parts of the tree, which have a high content of heartwood.

2. Processing the raw timber
When the wood arrives at our factory, it is scanned and optimised on the basis of knots type and saturation and the finished lengths. The panels or profiles are then moulded, glued and sanded before being shipped out to our customers.
3. production at our customers
The finished products are manufactured at our customers' facilities, so it is essential that we always deliver the right quality on time.
Upcycling of residual wood
NORTO receives a large proportion of the wood discarded on account of high knot saturation. The small pieces of residual wood from the container are collected at our finger jointing facility, where they are used to create new raw material for use in new, upcycled solutions.
4. Products all over the world
With professional pride and expertise we have provided people all over the world with access to strong, fundamental products.
A knowledge hub
VTI serves as a knowledge hub in all links of the value chain, encompassing suppliers, partners and customers. We contribute knowledge and advice to all parties in the value chain because we know that through our partnerships, we are Stronger Together.
Meet our employees: they're the ones who make it all work
We are incredibly proud of our employees at VTI. They're a crucial part of VTI's successful development, and we recognise this by continuously telling the stories of their work tasks, motivations and achievements.
Because we believe it's important to acknowledge our employees' hard work and dedication. We want to create a culture where we show that every contribution counts and is valuable to our success as a company. Together, we bring VTI's vision and mission to life by braiding our five work mantras into everything we do.
Read our employee stories and understand our passion
Together for a responsible and sustainable future
At VTI, we recognise that our efforts are important in creating a more sustainable future for generations to come.
Climate change and environmental issues require action from all stakeholders, and as a company we want to take responsibility for sustainable production and operations. We want to contribute towards solving the climate challenges which the world is now facing.
We work with sustainability on multiple levels, focusing on reducing our carbon footprint so we can make a difference. Click on the arrow to read more about our sustainability and responsibility work
Choose VTI as your next workplace - the place where you can grow and develop
At VTI, attractive benefits and a unique, inclusive work culture make it a pleasure to go to work every day. We believe that when our employees are happy, thriving and healthy, it has a positive impact on both the individual employee and VTI as a whole.
We have a strong focus on employee satisfaction, and we offer great opportunities for personal and professional growth. Because VTI is a company in constant growth, you have the chance to help create something special.
Read more about what it's like to work at VTI
Dive into VTI's history with some of the company's biggest milestones from its humble beginnings to our path to becoming one of Europe's leading glulam manufacturers.
Read more about the history of VTI